Best Play Store Tips and Trick for Beginners
Play Store contains lots of interesting applications and games that you can get for free or paid.
Now, on this occasion, we will provide tips and tricks for those of you who still don't know the Play Store in detail or for those of you who have just switched to using an Android phone.
Here is a list of Play Store Android tips and tricks for beginners:
1. Getting Refund
If you have just switched to Android, make sure you know one of the main features in the Play Store that is Refund.
This feature has been available for a long time on Android and wtrickz itself has already discussed it some time ago.
(Read:
How to get Purchase Refund from Play Store
)
* Note: To get a refund, the application or game you purchased must be in a warm condition (only purchased a few hours ago), if you want to make a refund the next day then it might not be possible, because the refund can only be done within an interval 2-3 hours after buying the application

.
2. Shortcut The newly installed application does not appear on the Home Screen
Surely you all have installed the name of the application or game on the Android Play Store?
Well, if you have installed an application or game, surely you will find an application shortcut or the game will appear automatically on your Android Home screen.
Right isn't it?
There is actually an easy way to deactivate these settings, namely by removing the checklist in the "Add icon to Home screen" option in the Play Store settings.
3. Add the Play Store Application to the List of Desired Applications
Do you have plans to buy applications and games?
But now you don't have enough funds to buy the application?
Instead of forgetting later, you better use the desired application features.
Yup, this feature is sort of bookmarking the application or game that you want to download on the Play Store.
For more detailed information, please visit the
following
page
.
Well, that's a list of tips and tricks for the Play Store application that must be known by beginners or you who have just switched to using Android.
4.

Disable Auto-update in Play Store Application
In the Android Play Store there is an option called Auto-update, this option is useful for those of you who want the application to be updated, whether it's using Wi-Fi or data without having to manually update (one by one).
Well, for those of you who don't want the application to be updated even though it's in the auto-update option, you can remove the Auto-update checkmark on certain applications so that the application doesn't update.
5. Beta and Early Access applications
On the Android Play Store, sometimes you can find or get various applications that are still in the Beta and Early Access stages (for example, Microsoft Edge has just been released some time ago).
You only need to give permission to the application so that it can be installed on your Android device and don't need to worry about this application, because the Beta application and Early Access do not contain viruses and the like although some warnings often appear.
The warning actually aims to tell you that this application is still in the development stage and contains many bugs and not optimal so that sometimes when you use the application you will often crash or hang.
6. Search for Applications Based on Developers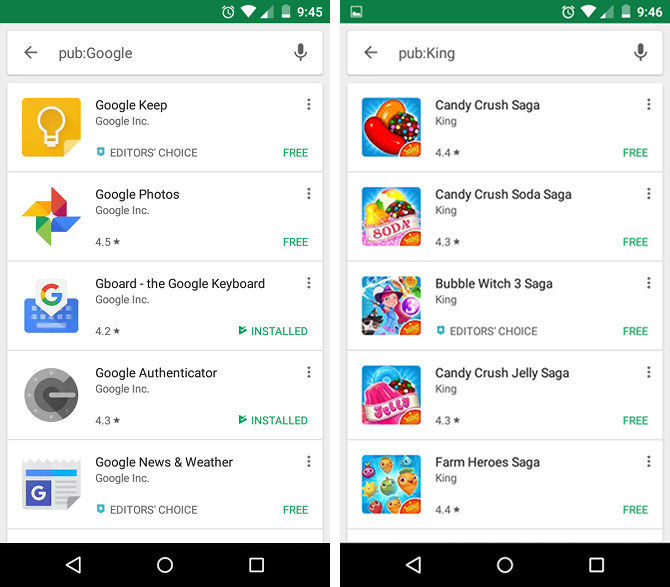 7. Install Application on Play Store (by Region)
Each region sometimes has its own flagship application, there are even developers who only release applications in certain areas, so that you can't install the application.
However, this is not a big problem.
Yup, the article on Android there are various kinds of VPN applications which are useful for changing your area including the Play Store application area.